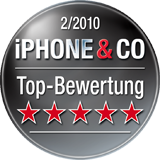 Improve your German vocabulary by whacking the mole whenever he shows up to quiz you during the day. Behind the fun facade lies some serious psychological learning theory.
You can leave the app running and let the mole challenge you from time to time with multiple-choice quizzes. They are so short they do not interrupt the mental context of what you are doing. This form of learning is ideal if you cannot find the time to sit down for extended periods each day to cram your vocabularies. Or try to beat your high score by answering as many quizzes as possible in a given time.
The learning algorithm is based on Leitner's famous flashcard system: it maximizes learning efficiency by using spaced repetition. An animated meadow with mole hills shows how you progress. The better you know the words, the further the mole hills move away, until they finally disappear. Clear the meadow of all hills to obtain the mole's helmet and advance to the next level. The mole has five different helmets, each one more difficult to get than the previous one.
If you know German at an intermediate level or are a beginner with some knowledge of German words already, whack your way to the coveted purple helmet and your mastery of German vocabulary!
Features:
Vocabulary of over 7000 words
Quizes directions English -> German and German -> English
Uses spaced repetition to maximize learning effectiveness
You can let the iPod app keep playing while Vocab Mole is running
You can press the sleep button on your device to save battery; the mole will continue to quiz you from time to time
The main screen shows your learning progress in the form of an animated meadow with molehills
The app can also be used as a dictionary: enter a word and get the translation.
| | |
| --- | --- |
| | Hills represent vocabularies. The further a hill is away, the better you know the vocab. The mole will quiz you if he wakes up. Oh, and the klaxon is tappable. |
| | Before. |
| | Between Before and After. |
| | After. |
| | The hills move to show your progress. |
Graphics: Piotr Knabe
Full version

Lite version